I have been spending a lot of time working with microcontrollers and circuits. One of my majors goals is to build an awesome, complex robot with my daughter. She has all kinds of ideas for how it should act (and so do I). We have been talking about it since watching Battle Bots, which was renewed for a second season! Here is our first prototype, Simon.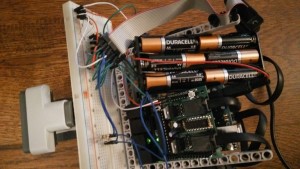 Simon is built with an Arduino Uno and the Lego Mindstorm NXT kit. Her chassis is based on this build. The Arduino connects to the NXT sensors and motors using a Bricktronics Shield. The first version had the GamePad connected through a breadboard and a button sensor on the front that prevented Simon from moving if she was touching something.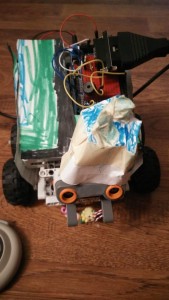 I attached a maker board to the top to wire in the Game Pad better. Only the X/Y analog controls are wired up. We also removed the button and connected the ultra sonic sensor instead. On the maker board we also put a buzzer. Now if something is too close to the front of Simon, Simon complains through the buzzer. My daughter like to bug and instead of driving Simon she prefers to get into Simon's face and make her yell.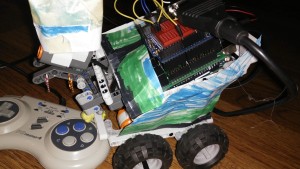 Finally, Simon also got dressed up. We placed panels on her, a hat, there are earrings (colored paperclips) and a necklace my daughter made.
The next step for Simon is to attach her to a wireless control using an Esplora.
If you want to meet Simon, we will be the Barnes & Noble Mini Maker Faire at Coronado, for the Sunday night Meet the Maker event.